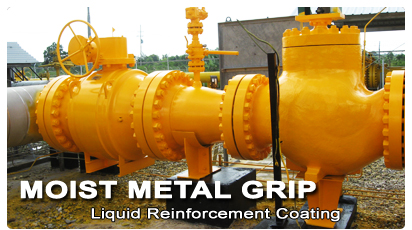 Moist Metal Grip® is a two-part epoxy designed to provide a water resistant, anti-corrosion coating to wet and submerged surfaces. Moist Metal Grip® is extremely flexible, tough, and durable.
Prevents corrosion of coated materials from the damaging effects of submersion or constant moisture exposure.
Applied to moist or condensating pipes or metal surfaces that cannot be dried or stopped to dry before applying a corrosion coating.
Submergible after only 48 hours of cure time. Finishes curing while submerged.
Displaces the moisture on the surface and the epoxies attach to the metal surface and cures chemically.
Acid and chemical resistant.
Smooth finish, self-levelling and can be tinted any color desired.
Can be applied to steel, aluminum, wood, and concrete.
Apply to wet surfaces that cannot be dried before applying a corrosion coating.
Use for all metal and concrete surfaces that are exposed to constant water pooling or condensation. If metal is to be submerged, use Moist Metal Grip® to protect it while under water.
Can be used to protect inside of water tanks. Moist Metal Grip® is a polyamide formula base that is safe for potable water uses.
Can be applied over metal or concrete surfaces that are also flooring. Moist Metal Grip® is tough enough to withstand traffic.
Although Moist Metal Grip® can be applied by non-professionals, SC2 Trading recommends using a certified applicator. To get more information, please contact us at info@sc2trading.com
Preparation
Surface must be clean with no loose debris or particles, rust, dirt, oil, films or residues of any kind. Moist Metal Grip® will cover previous coatings if they are fully adhered to the surface.
Mechanically stir base.
Mix curing agent into base and let sit for 30 minutes before applying.
Application methods
Airless or pot sprayed: tip size .015; apply in two coats.
Roller or brush: apply in three coats.
Add an additional coat for vertical surfaces
Applied rate:
Metal: 6.14m2/liter    Concrete: 4.90m2/liter
Film thickness:
Wet: 0.25-0.35mm    Dry: 0.130-0.180mm
Temperature:
0°C (32°F) – 38°C (100°F)
Colder temperatures will increase dry time.
Dry times:
4 hours to touch.
10 hours to recoat.
Recommended applying first coat at night.
Full cure:
10 days. Can be submerged after 48 hours.
Precautions:
6-8 hour pot life.
Limitations- Do not use as a single-corrosion coat system exposed to the sun. Epoxies will chalk when exposed to UV over time.
– On food preparation surfaces that are in direct contact with foodstuffs.
– Do not apply over chlorinated rubber. Even after sandblasting, the chlorination can attack the solvents and brittle the coating.