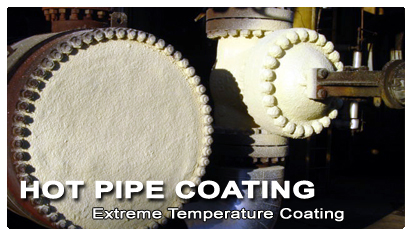 Hot Pipe Coating© (HPC) is a ceramic based, water-borne insulating coating, designed to insulate in extreme heat situations, and can be used both as a base coat / primer and build coats to achieve the desired thickness. HPC provides for safer surfaces and overcomes all the downfalls of conventional insulation.
Apply directly to hot surfaces to immediately reduce the surface temperature.
Add build coats as needed to reduce the temperature to the desired level.
Easy to apply. Overcomes downfalls of conventional pipe wrapping.
Direct-to-metal coating on properly prepared steel.
Non-flammable and non-toxic.
Does not absorb moisture or lose insulation value, like fibreglass.
Long-term cost effectiveness.
Reduction of external temperature of hot surfaces as an aid to worker safety. (Canadian code for hot surfaces = 70°C).
Reduction of heat loses and resulting energy savings.
Reduction of condensation in situations with large temperature differences.
Application
Although HPC can be applied by non-professionals, Superior Products Europe recommends using a certified applicator.Contact 1-866-310-7585 for details.
Preparation
Surface must be clean and completely dry, with no loose debris or particles, rust, dirt, oil, films or residues of any kind. HPC will cover previous coatings, provided they are fully adhered to the surface.
Mechanically stir, as ceramics will tend to settle.
Safety
Always make a test sample first to see if HPC meets your demands.
Hopper gun with a 6mm tip.
Apply a 45 wet mil primer coat, and then build as needed
Applied rate:
0.50m2/liter as primer
0.04-0.22m2/liter with build coats
Film thickness:
1.15mm as primer Dry: 3.18-20.3mm with build coats
Dry times:
10 minutes as primer over hot surface, then build up as needed.
24 hours to set.
Precautions:
Do not use for exterior applications unless top coated with a UV protected coating.
Limitations

Do not use for underwater applications.
HPC is white in colour and rough in texture, and cannot be tinted or coloured.
Not recommended as the only fire protection material to be used in residential or industrial construction.
Do not use as floor coating.
Do not use externally as this coating is not UV protected. For external use overcoat with SuperTherm®, EnamoGrip®, or RustGrip®.