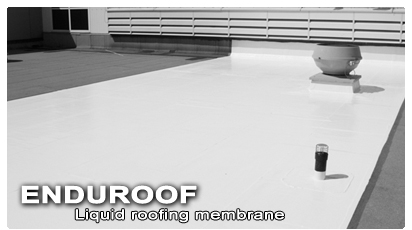 EnduRoof is a one component aliphatic polyurethane fluid which cures with the humidity in the atmosphere. It produces a highly elastic membrane with strong adhesion to many types of surfaces. It is based on pure elastomeric hydrophobic aliphatic polyurethane resin plus special inorganic fillers, which result in excellent mechanical, chemical, thermal, UV and natural element resistance properties.
Excellent adhesion to almost any type of surface, with or without the use of special primers.
No thinning is required but xylene may be used.
Excellent weather resistance
Excellent thermal resistance, the product never turns soft.
Max service temperature 80°C
Max shock temperature 200 °C
Resistance to cold: the film remains elastic down to -40 °C
Excellent mechanical properties, high tensile and tear strength, high abrasion resistance.
Good chemical resistance.
Non-toxic after full cure.
Water vapor transmission: the film breathes so there is no accumulation of humidity under the coat.
Special primers available for almost any substrate.
Special additive, like ACCELERATOR, is available.
Waterproofing and protection of:
Tiles
Gypsum and cement boards
Polyurethane insulation foams
Bathrooms
Verandas and balconies
Roofs
Light roofing made of metal or fibrous cement
Asphalt membranes
EPDM membranes
Tanks
Car parks and stadium stands
Bridge platforms
Irrigation channels
Clean the surface using jet water, if possible.
Remove oil, grease and wax contaminants.
Cement laitance, loose particles, mould release agents, flaking coatings must also be removed.
Fill surface irregularities with the necessary product.
Priming: apply the required AQUA PRIMER following the guidelines above.
Mixing: use a low speed (300 rpm) mixer. Add xylene 5-10% for application by spraying.
Apply with roller or brush in two layers.
Do not leave more than 48 hours between coats.
If more time passes (more than 4 days) or if you are unsure of the interlayer adhesion, use xylene or MEK 5-10% for application by spraying.