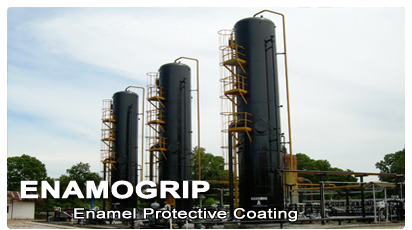 EnamoGrip® is a tough, moisture curing, two-component polyurethane enamel, which produces a uniquely hard and durable coating film. EnamoGrip® will demonstrate unsurpassed semi-gloss retention, colour-retention, graffiti-resistance, and chalk resistance, when utilized for exterior coating situations, and will provide outstanding resistance to water and humidity, stains, chemicals, and solvents, as well as tremendous scuff-, mar-, and impact-resistance.
Self-leveling when applied, gives a glossy, smooth-finished surface appearance.
Applied as a clear coat, or is tintable to any colour desired.
Extremely tough, EnamoGrip® makes an excellent floor coating.
Easily applied to steel, aluminum, concrete or wood.
Exceptional graffiti-resistance.
Submergible – water resistant
20+ year lifespan on roofing under normal conditions.
Topcoat over RustGrip® when specific colour is needed, to give a long life to the surface, or to protect against water ponding.
Applied over SuperTherm® to give the best possible protection for a substrate, or to protect against water ponding.
Protects against UV, wear, weathering, and moisture penetration.
Seals against breathing moisture/gases and protect against weathering and acid/solvent contact.
Anti-graffiti protection for surfaces. Applied and cured, EnamoGrip® can resist the permanent damage of vandalism.
Vehicle and equipment finishes.
Flooring, especially when combined with anti-slip elements.
Although SuperTherm® can be applied by non-professionals, SC2 Trading recommends using a certified applicator. To get more information, please contact us at info@sc2trading.com.
Preparation
Surface must be clean and completely dry, with no loose debris or particles, rust, dirt, oil, films or residues of any kind. EnamoGrip® will cover previous coatings if they are fully adhered to the surface.
Mechanically stir base.
Mix curing agent into base and let sit for 30 minutes before applying.
Application methods
Airless or pot sprayed: tip size 0.66mm; apply in two coats.
Roller: use ¼" nap commercial roller; apply in two coats.
Brush: apply in two coats
Add an additional coat for vertical surfaces
Applied rate:
Metal: 6.13m2/liter
Concrete or wood: 2.45-3.68m2/liter
Film thickness:
Wet: Metal – 0.127-0.176mm   Wet: Concrete – 0.30-0.38mm
Dry: Metal – 0.051-0.076mm   Dry: Concrete – 0.127-0.176mm
Temperature:
10°C (50°F) – 38°C (100°F)
Colder temperatures will increase dry time.
Dry times:
1 hour to touch.
4 hours to handle.
2 hours to recoat.
Full cure:
4-5 days in warm temps.
7-10 days in cool temps.
Precautions:
6-8 hour pot life
Strong odour during application and initial curing.
Limitations

Not intended for use on food preparation surfaces that are in direct contact with foodstuffs.
Do not apply over wet or moist surfaces. Surfaces must be completely dry.