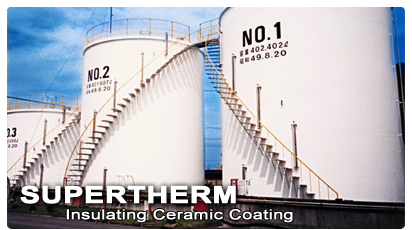 SuperTherm® is a ceramic based, water-borne, insulating coating, designed to reflect heat and reduce energy costs. The only ceramic coating on the market developed with the assistance of NASA, SuperTherm® is the most effective and longest lasting ceramic coating on the market.
Energy savings of 20-70% for air-conditioned buildings during the warmer months. Greater savings can be seen with cooler buildings and freezers.
Increases productivity resulting from less heat stressed work areas
Reduces heat stress and increase performance of animals
Relatively thin. Only the thickness of a business card, but has been favourably tested in labs and in the field against batt insulation:
Reflects over 95% of the radiation from the sun.
R-19 equivalent rating. (Equal to 15-20cm of fibreglass)
Unique ceramic composition:

Four different ceramics for full coverage against heat transfer.
Most ceramic coatings only contain a single reflective ceramic.
The only ceramic coating rated as an insulator by BOCA (U.S. Building Code).
Various resins, including urethanes, for durability and longevity.

Reflects 68% of sound waves that contact it.
Class A fire rating. In case of fire, SuperTherm® will help to prevent spread of, and will not contribute to, the burn.
Prevents mold and mildew growth.
USDA approved for use in and around food preparation areas.
Environmentally friendly.
Long life – 20+ years lifespan on roofing under normal conditions.
White in colour and rough in texture for maximum performance.
Industrial and Commercial
Reduces energy costs and increases comfort by coating roofing and interior or exterior walls to keep heat in during winter or heat out during the summer.
Insulate freezers or refrigeration units to protect goods and reduce costs.
Reduce fuel consumption with refrigerated trucks.
Protect goods by insulating long haul trailers designed to carry perishables.
Insulate hot pipes against heat loss and personal injury.
Reduce risk of condensation on cold water pipes.
Insulate oil and gas storage tanks to prevent evaporation and heat build-up.
Insulate air conditioning unit outer casings to prevent reductions in efficiency due to heat build up inside the housing.
To provide a fire-resistant coating for substrates. SuperTherm® has a "0" fire and smoke spread and will not contribute to flame.
Agricultural sector
Reduce heat stress and increase livestock profitability by applying to all animal shelters, especially poultry, cattle, hogs, and horses.
Reduce heat stress during animal transportation by applying to vehicles.
Residential
Insulate swimming pool decking on concrete to provide a cool surface to sit and walk on.
Reduce fuel consumption with motor homes.
Although SuperTherm® can be applied by non-professionals, SC2 Trading recommends using a certified applicator. To get more information, please contact us at info@sc2trading.com.
Preparation
Surface must be clean and completely dry, with no loose debris or particles, rust, dirt, oil, films or residues of any kind. SuperTherm® will cover previous coatings if they are fully adhered to the surface.
Mechanically stir, as ceramics will tend to settle.
Application methods
Airless or pot sprayed: tip size 0.71-0.81mm; apply in one coat using crosshatch method.
Roller: use ¾" nap commercial roller; apply in two coats.
Brush: apply in two coats.
Vertical surfaces should be applied in two coats
Applied rate:
2.45m2/liter.
Film thickness:
Wet: 0.36-0.40mm    Dry: 0.20-0.25mm
Temperature:
10°C (50°F) – 90°C (194°F). 22° (72°F) best.
Dry times:
1 hour to touch @ 22°C. 4 hours to recoat.
Full cure:
14 – 21 days.
Limitations

Not suitable for underwater use of any kind.
Not presently recommended as the only insulation form to be used for housing although it has met with excellent results.
Not recommended as the only fire protection material to be used in residential or industrial construction.
Do not use as a stand-alone floor coating.
Do not used directly on food preparation surfaces.
While SuperTherm® can be tinted, it is strongly recommended that it not be.
Safety
To apply SuperTherm® on steel, the surface must be primed wirh RustGrip® first
To apply SuperTherm® on bitumimous and or asphalt materials first use SuperBase as a primer.
Superterm must be used on the side of the heatsource. This means that the product is applied on the outside when used for sunprotection and on the inside on the wall or sealing for heatsaving.