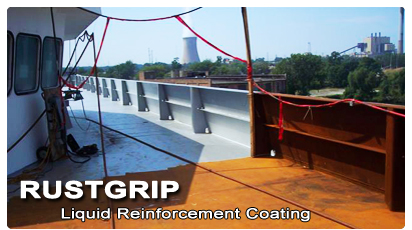 RustGrip® is a metallic-based, moisture-cure polyurethane encapsulating coating that will coat over most surfaces to seal them up against further corrosion, weathering, and physical wear. RustGrip® is a three-coats-in-one system that acts as a primer, intermediate, and topcoat in one.
Excellent for minimally prepared surfaces, ie. No sandblasting
Protects steel, aluminum, concrete, wood, fibreglass, lead-based paints, polyurethane foam, and other coatings.
Extremely tough, it makes an excellent floor coating.
Submergible in 100% nitric acid without any effects. Designed to withstand acids, salts and caustics with no loss of strength.
Rated as a Class A fire coating. In case of fire, Rust Grip® will help to prevent spread of, and will not contribute to, the burn.
Certified by the EPA for encapsulation of lead-based paints and asbestos.
Prevents mold and mildew from forming.
USDA approved for use in and around food preparation areas.
15+ year lifespan on roofing under normal conditions.
In its design, RustGrip® will apply over a surface and immediately find the pores of the surface and immediately fill them. Within an hour of application, it will begin its cure cycle. During this cure cycle, it will pull moisture from the air and begin to microscopically swell within the individual pores as it hardens. This process anchors the coating and seals against any possibility of air, moisture, or any minerals attacking the surface causing any further corrosion of any kind.
Corrosion and weathering protection. RustGrip® is UV-controlled and is not affected by hostile environments.
Overcoat rusted areas to stop and control corrosion activities. Rust Grip® will seal out any contact with moisture and air or chemical pollutants that breed corrosion activity.
Prime metal before over-coating.
Prevention of corrosion.
Protect floors to prevent wear and damage.
Anti-slip coating when combined with aggregates, for use around high traffic areas.
Protection from acid splash or pooling. It will not allow acids to penetrate to affect the surface.
Encapsulate and seal lead-based paints, asbestos, or other hazardous materials.
Although RustGrip® can be applied by non-professionals, SC2 Trading recommends using a certified applicator. To get more information, please contact us at info@sc2trading.com
Preparation:
Surface must be clean and completely dry, with no loose debris or particles, dirt, oil, films or residues of any kind. RustGrip® will cover rust and other coatings if they are fully adhered to the surface.
Stir MECHANICALLY very well, as the metallics tend to settle out.
Application methods:
Airless or pot sprayed: tip size .018-.020. Non-rusted steel: apply in one coat using crosshatch method. Rusted steel: apply in two coats using crosshatch method. For other surfaces apply in two coats.
Roller or brush: apply in two coats.
Add an additional coat for vertical surfaces
Applied rate:
Rusty – 4.90m2/liter.    Non-Rusty – 7.35m2/liter.
Film thickness:
Wet: Rusty – 0.127-0.200mm    Non-Rusty – 0.076-0.100mm
Dry: Rusty – 0.076-0.100mm    Non-Rusty – 0.038-0.051mm
Temperature:
0°C (32°F) – 90°C (194°F). 22° (72°F) best.
Dry times:
1 hour to touch @ 22°C. 2 hours to re-coat. Re-coat with self within 4 hrs. If over coating with any other paint product, do so within 2 weeks.
Full cure:
7 – 10 days.
Precautions:
RustGrip® is so tough it will not wash off hands.
Do not leave unused portion of pail opened for longer than 4 hours.
Limitations

Silver / grey in colour, it cannot be tinted due to the metallics in the formula. (And the metallics is what makes the product so strong)
Not for use over wet or moist surfaces. Surfaces must be completely dry.
Not for use in situations of constant underwater exposure.
Not recommended for use around high ammonia levels.
Not for use on food preparation surfaces that are in direct contact with foodstuffs.